Plymouth Brethren Christian Church breaks all records in the British Heart Foundation Bag-athon!
For the second year running, the Plymouth Brethren Christian Church (PBCC) have participated in the British Heart Foundation's (BHF) 'The Great British Bag-athon'; an initiative to collect unwanted clothing, books, toys and other saleable items from the public and organisations such as the Brethren. These items are then sold in the BHF's many retail shops throughout the country.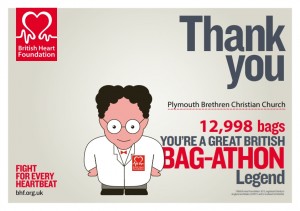 The PBCC rallied to the challenge and donated an incredible 12,998 number of bags during the month of September, to become Bag-athon Legends once again! If the total number of these bags were lined up in a row, this would cover a distance of over four miles. Mike Taylor, Retail Director of the British Heart Foundation, hailed the donation efforts as a "fantastic achievement" during a presentation ceremony held to congratulate a delegation from the PBCC community in October.
At the presentation, the PBCC were able to see the superb facilities at BHF HQ, and learn first-hand from the medical staff, about the life-changing research that is carried out as a result of the generous funding from the British Heart Foundation.
The British Heart Foundation's mission is to 'keep more hearts beating', and the data presented during the visit to HQ certainly proves that they are doing this. Since BHF's inception over 50 years ago, the number of people dying from heart-related illness has more than halved from 180,000 down to 80,000: an amazing achievement in which the BHF have played a huge part. BHF provide funding for research that prevents heart disease, survival training and defibrillators to help save lives following cardiac arrests, and support for people who have suffered with heart disease.
Ten years ago, the British Heart Foundation was only earning around £7m profit from their retail stores; today they are making £35m. This is thanks to fundraising initiatives such as The Great British Bag-athon, and with Mike Taylor stating that each bag could be worth up to £20, this means that the PBCC themselves have donated over £250k within a month, for the benefit of the British Heart Foundation.
The PBCC are very glad to know that their donation will 'keep more hearts beating' and are pleased that they were able to help BHF beat its target in this year's Bag-athon. Ian Hughes for the PBCC said: "We'll be back next year!"