PBCC RRT in action at Plastic recycling fire in Smethwick
The largest fire in the West Midlands saw over 200 firefighters working tirelessly for over 3 days. The company called Jayplas, a plastic recycling facility with over 10,000 tonnes of stock, ignited when a Chinese lantern drifted into the stock late on Sunday evening.
Whilst the fire service fought to gain control and save surrounding buildings, the Rapid Relief Team from Sutton Coldfield made contact with the command post and made arrangements for refreshments.
As the national media interest in the event was very high, the West Midlands Fire Chief, Mr Vij Randeniya, was at the scene. He took a personal interest in the arrangements ensuring the refreshment post was in the most suitable location and then coming across to sign our comments book – he wrote "Thank you for your endless support". This was one of the first of over 8 pages of comments of thanks, praise and gratitude which were written in the on-site record book.
The Rapid Relief Team banners said it all – "Serving the community in time of need". Free gospel tracts and over 35 free Bibles were also distributed to members of the various emergency services. The volunteers got the equipment and provisions to site at 17.00hrs and set up the refreshment area. A neighbouring organization, Greencore, provided over 100 sandwiches packs whilst the PBCC provided over 120 flapjacks, cocktail sausages, sausage rolls, cookies, brownie cake, tea, coffee and hot chocolate, 250 energy drinks and hundreds of bottles of water. Over 35 free bibles were distributed with many appreciative comments from the recipients!
The initial team served from 17.00hrs until 23.30hrs. Then a shift of volunteers from our community in Sutton Coldfield and Stafford manned from 23.30hrs until 02.30hrs, followed by another shift from 02.30hrs until 04.30hrs where the final team relieved them and served until 07.00hrs Tuesday morning. The morning shift distributed over 200 hot bacon and sausage rolls to the weary night shift fire crews.
The value of the RRT's work was further highlighted on the BBC Birmingham and Black Country webpage covering the fire.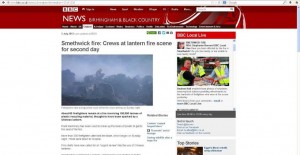 http://www.bbc.co.uk/news/uk-england-birmingham-23141238